As more foreigners choose to make the emirate their second home, Dubai growing population, which officially reached 3.55 million in 2022, is expected to keep expanding quickly.
Several new residential projects have been constructed throughout the emirate by reputable developers to accommodate this expanding population. Among these are the new $5.4 billion neighborhood by Azizi Properties, the $5.4 billion Dubai Ritz-Carlton Residences, the $5.4 billion Mama Residences Dubai, the $5.4 billion Safa One and Safa Two Towers, and many others.
In the works and prepared for debut are more initiatives. Due to this, foreign investors now have the opportunity to enter the market and capitalize on Dubai's real estate market's continued growth.
A bigger amount of infrastructure construction is also taking place in the emirate in addition to real estate development to meet the growing population.
Speaking about the impact of the rising population in the Dubai property market, an upscale lifestyle, safety, security, and abundant opportunities to grow as a professional or entrepreneur are just a few of the reasons why Dubai is welcoming more and more expats every year.
As they have allowed international investors to take advantage of additional benefits when purchasing real estate in Dubai, the most recent visa amendments have also proven to be the icing on the cake. All of these elements continue to have a favorable effect on the real estate market.
Growth In Dubai Real Estate
The Dubai real estate market is also expanding despite the city's expanding population. The previous year saw the first time that annual transactions exceeded half a trillion dirhams. The overall value of transactions in 2022 was Dh528 billion, a staggering increase of 76.5 percent from 2021.
The rental market has gained greater traction as demand has risen as more foreigners are prepared to make Dubai their second home. The average rent increased by about 27% last year, with villas and flats seeing increases of 27.1 and 24.9 percent, respectively.
These numbers are predicted to rise even further in 2023 because to rising demand brought on by population growth.
In 2023, Dubai expects to draw more businesspeople, investors, job seekers, and those interested in affluent living. In the end, this will spur growth across a number of industries, including the real estate market, which is currently at an all-time high.
Major Takeaways
Dubai's population reached 3.55 million in 2022.

Several developers have started new residential constructions across Dubai in order to accommodate the expanding population.

With a 76.5 percent growth, annual transactions surpassed half a trillion dirhams for the first time in 2022.

The rental market also experienced a boom, with an increase in average rent of about 27%.
Expat Purchase The Most Expensive Luxury Residence
As two additional prime houses were sold to European bidders at record prices, Tilal Al Ghaf has become the new ideal location for foreign investors.
A British family and a European investor invested in high-end villas at Lanai Island for the planned mixed-use community in Dubai that Majid Al Futtaim is developing.
The first luxury home purchased by a British family, who now reside on Dubai's renowned Palm Jumeirah.
In December 2022, a British bidder paid Dh90.1 million to purchase the second-most expensive property on Lanai Island.
With a site measuring an amazing 25,870 square feet and a built-up space of 30,742 square feet, this magnificent mansion cost Dh90.1 million ($24 million).
A European customer purchased a dream home for Dh91 million on January 26, 2023, making the real estate consultancy's sale of the most expensive property in Tilal Al Ghaf last month. In the neighborhood's history, it was the most expensive property ever sold.
A Dh90 million villa was sold in this burgeoning tourist hotspot of Dubai, according to Metropolitan Premium Properties, which announced that it had completed the largest single-unit transaction in its history. The eight bedroom, more than 30,200 square foot estate was purchased by a family from India that was hoping to buy a home for their own usage..
As evidenced by the top three deals signed for more than Dh90 million at the Tilal Al Ghaf complex, Dubai real estate continues to draw HNWIs.
Despite the growing interest rates in the emirate in accordance with the global markets, it solidifies Dubai's status as a bankable location for living an expensive lifestyle.
Why Invest In Lanai Island
Both residences are over 30,000 sq ft in built-up area with customizable interiors. They were developed by Majid Al Futtaim and designed by SAOTA with interiors by Kelly Hoppen.
The interiors were altered by both buyers to add six additional bedrooms, a massive super master bedroom with his and hers closets, a roomy second master, and six more.
The first owners can work from home thanks to a separate guest house that has been converted into an executive office. Ample underground parking for 13 automobiles is available at both locations, and each has a car wash facility.
Additionally, the homes have a full home spa with a steam room, sauna, beauty salon, and treatment room. The family will also be able to use the home theater and gym. Moreover, the two mansions include two swimming pools as well as an indoor waterfall that cascades from the main pool to the basement.
The Major Deals
Both of the recently sold residences provide breathtaking views of the sparkling lagoon, according to Andrew Cummings, partner and head of Premier Residential at Knight Frank Middle East.
My client instructed me to find them good neighbors after the first villa sold in December, so the following day I spent the afternoon on the beach at Atlantis and made calls to the kinds of people I believed would make for ideal neighbors.
The response was amazing, and I'm happy to report that the adjoining villa was sold just six weeks later for the highest price ever recorded in the neighborhood. When they are finished, these will without a doubt be the nicest mansions in Dubai and will make wonderful family homes as well as a wise investment.
Popular New Community
In addition to the schools, hospitals, restaurants, and other housing facilities planned for Tilal Al Ghaf, there will be nearly 350,000 square meters of open space. The development would also have a lagoon with 70,000 square meters of water and 400 meters of open coastline dubbed Hive Beach.
According to Cummings, Tilal Al Ghaf is radically altering the way villa development is done in Dubai.
Majid Al Futtaim, the project's developer, added world-class shops to the project's gorgeous master design, which includes plenty of lush vegetation and a fantastic crystal lagoon.
There is nothing quite like it in Dubai in terms of the homes in the neighborhood. These villas are filling a need in the market for consumers who desire luxury products with matching finishes because they are highly customizable and of high quality.
World Class Luxury
Once finished in 2026, Lanai Island will be the first of two private islands Majid Al Futtaim will release in Tilal Al Ghaf. It will feature brand-new seven and eight-bedroom ultra-luxury mansions created in collaboration with SAOTA, a renowned South African architecture studio, and Kelly Hoppen, an award-winning interior designer.
There are only 13 luxurious houses on the island, all of which are located on a private island in the middle of a 1.2 km crystal lagoon. There are nine Shore mansions and four opulent Edge Mansions.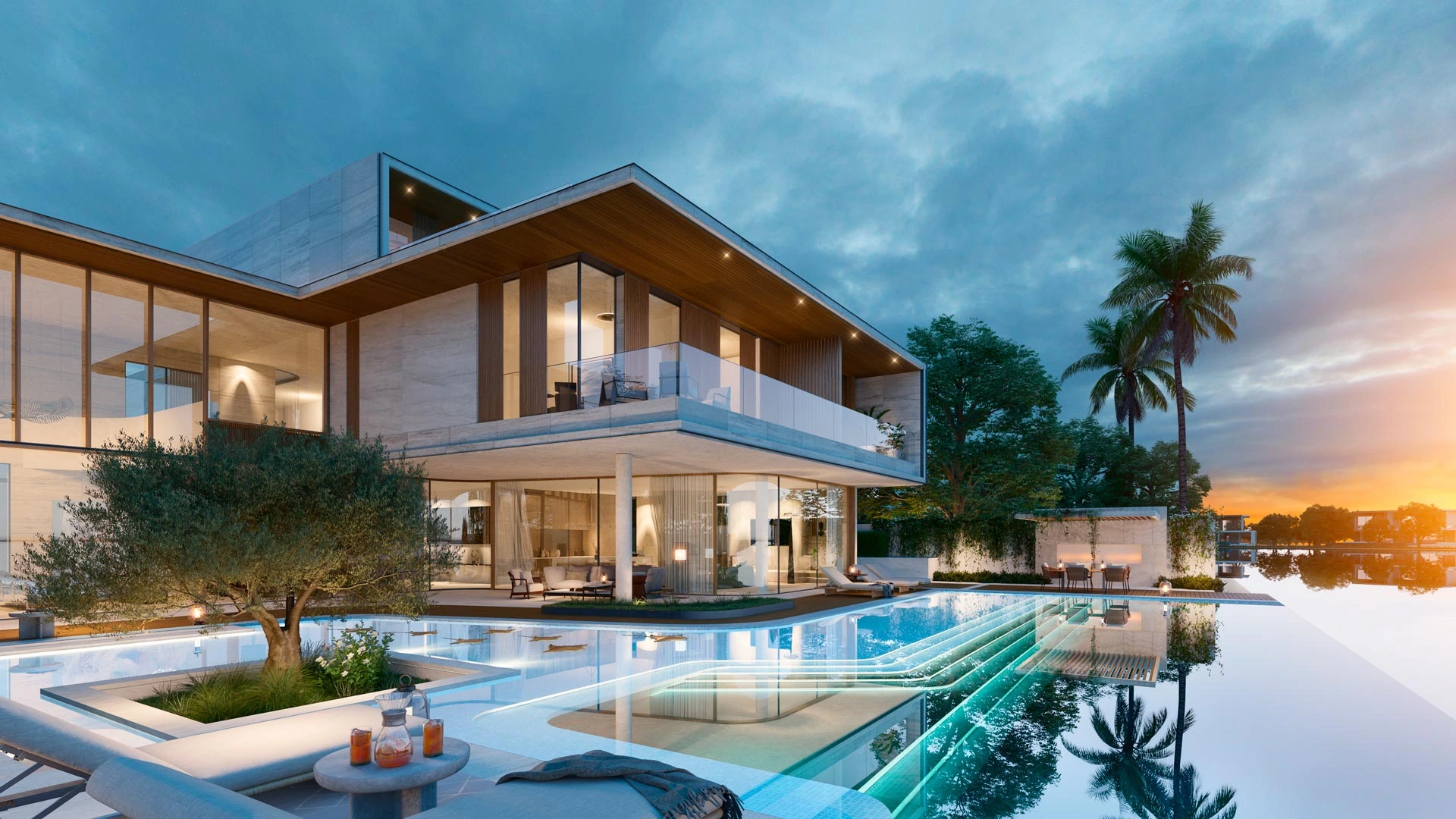 This neighborhood's and the island's mansions' apex is The Lanai Islands, a genuinely world-class creation that wouldn't be out of place in London or Los Angeles.
In contrast to typical villa products, which just provide a customer white walls, Kelly Hoppen's choice to include interior finishings in her product stands out. The buyer is instead pampered by Lanai, which offers a variety of possibilities for areas that can be customized to their liking.
Visit us online for more information, or email us at [email protected]